Back to Blog
Agile vs Fragile: Change … Bring It On!
Posted on Feb, 2013 by Admin
Part 4 in a series of 17. To start at the beginning, first read Agile vs Fragile: A Disciplined Approach or an Excuse for Chaos.
The second Agile principle focuses on being agile (little "a" in this case).  The primary concept is that change is seen as a positive way to ensure that what you deliver to the customer has the best chance of being correct. Principle two embraces changes, because it would rather make adjustments to timelines and delivery now rather than continue down the wrong path and have to retrace steps.  True agile teams see change as a mechanism for driving toward success.  Fragile teams see changes as a way to cover up mistakes and poor planning.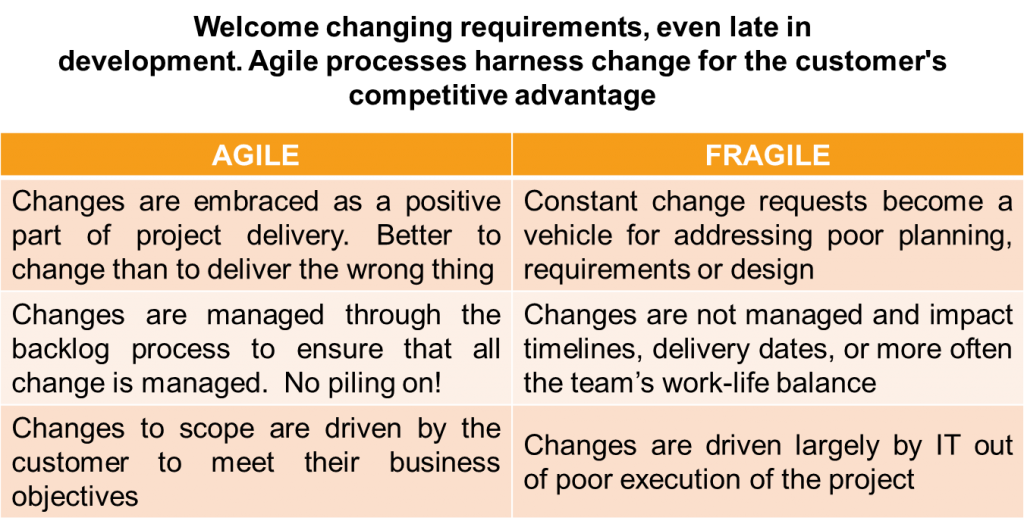 The challenge with Fragile teams is that change is used as a cover for poor planning.  Project teams move forward without direction and frequently have to make corrections as problems are discovered.  In a Fragile world, the majority of the change is driven by IT and not the business.  The business is largely left out of the loop while development "works through" the design and solution.  Changes are not put into backlog, but added to the sprint with little or no understanding of what is given up to address the change.  The best way to put it is that in a true Agile team, change is managed, and in a Fragile team change happens.

In the next installment of the blog we will talk about the 3rd Agile principle. In the meantime…Keep on testing!

Back to Blog