Back to Blog
Agile vs Fragile: Not a Death March
Posted on Mar, 2013 by Admin
Part 9 in a series of 17. To start at the beginning, first read Agile vs Fragile: A Disciplined Approach or an Excuse for Chaos.
Agile principle 8 deals with managing a fresh team.  This is one of the most telling characteristics of Agile and Fragile teams.  Agile teams see projects as a marathon made up of individual sprints.  For the team to make a sprint at the expense of the overall marathon is not acceptable.  Agile teams ensure that the amount of work that the team takes on is realistic and paces the effort of the team over the long haul.  To draw a parallel, let's look at thoroughbred horse racing and the Triple Crown.  The crown is made up of three races; the Kentucky Derby, the Preakness Stakes; and the Belmont Stakes.  If your goal is to win the Triple Crown, it doesn't make much sense to beat your thoroughbred so hard in the first race that it collapses and dies at the finish line.  The same goes for an Agile project.  It doesn't make sense to push the team so hard to make an individual sprint that you are unable to complete the project. Yet, many Fragile teams do just that. Leadership pushes the team to work long hours and weekends to make timelines, and ultimately destroy the morale of the team.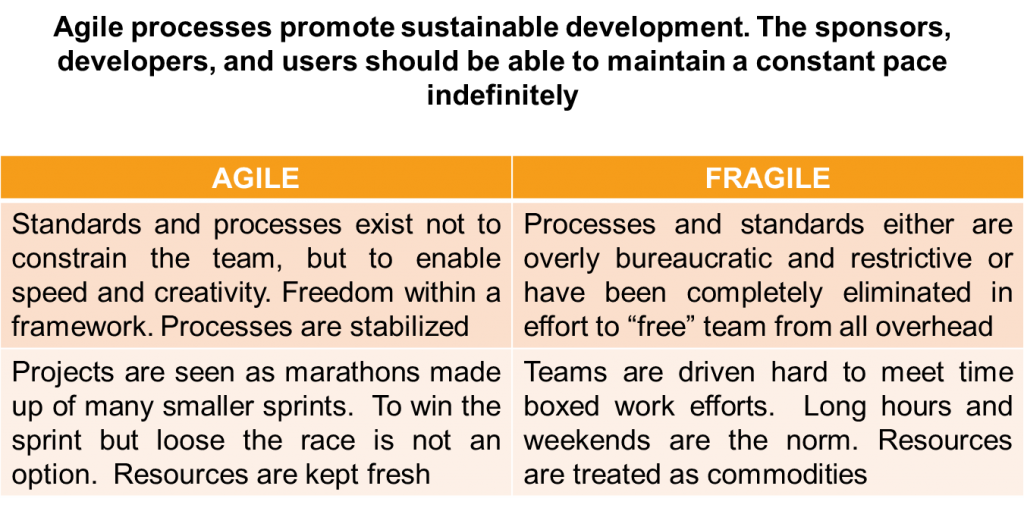 The focus of an Agile team is keeping the team fresh, and pushing forward to the end.  The focus of the Fragile team is to push toward the end of the sprint and worry about the next sprint tomorrow, and so on.  In Fragile teams, the burn down chart really is a burn out chart!
In the next installment of the blog we will talk about the 9th Agile principle. In the meantime…Keep on testing!

Back to Blog