Back to Blog
Agile vs Fragile: Success Requires Participation
Posted on Feb, 2013 by Admin
Part 6 in a series of 17. To start at the beginning, first read Agile vs Fragile: A Disciplined Approach or an Excuse for Chaos.
The fourth Agile principle focuses on ensuring that collaboration between the business and the teams that deliver is active.  The principle goes so far as to say that this collaboration needs to be a daily activity, not just a weekly update, or at the beginning and end of a sprint. When the business is engaged in the project, it has a much higher chance of success. Remember, the Voke survey states that 59% of Agile projects proceed without proper business participation.  This means that in nearly 60% of all projects, development is either running the show, or is forced to move forward and figure it out by themselves.  In either case, the end result will typically be a solution that misses the mark.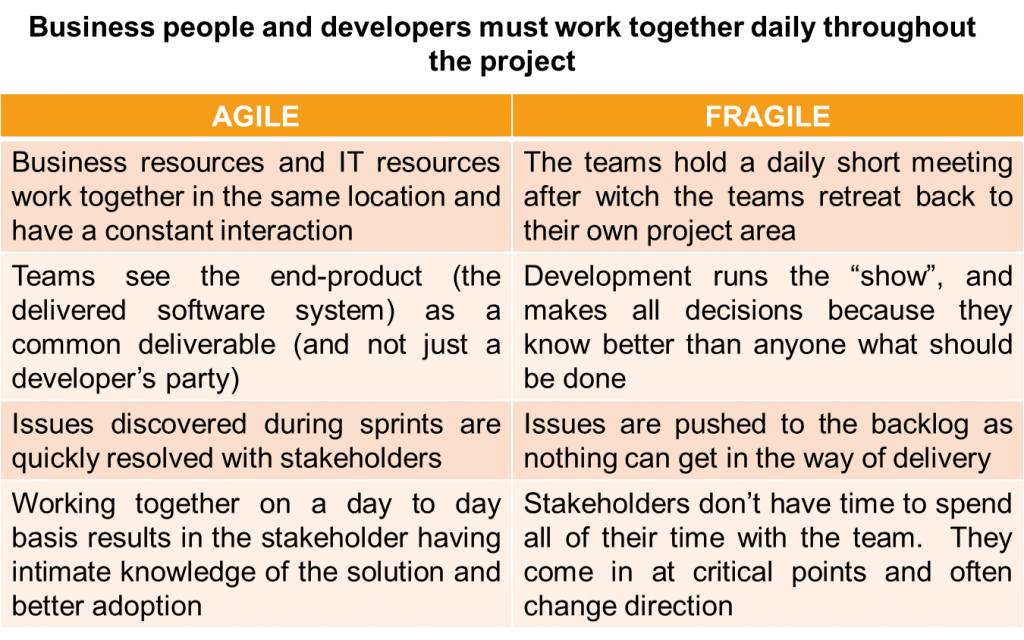 One of the most interesting observations I have made about Fragile teams is the concept of being alone in a crowd.  When you observe Fragile teams, you will often see them come together for a 30-minute stand up meeting, and then the teams go back to their desks, often in the same area, and put on their headsets so that no one can bother them.  If you take a seat in the bullpen for any period of time it is a bunch of people physically in the same space, but absolutely working in a silo.  Physically co-locating teams no more guarantees they will be agile than placing a scale in my bathroom guarantees I will lose weight.  If I had my way headphones would be banned in the workspace as would the use of email as the primary communication vehicle (more on that later).
In the next installment of the blog we will talk about the 5th Agile principle. In the meantime…Keep on testing!

Back to Blog