Back to Blog
HP Discover 2012 Coverage
Posted on Jun, 2012 by Admin
During the HP Discover 2012 Conference (June 4 – 7), Northway Solutions Group will be blogging live from Las Vegas. Check this page often during that time for frequent updates.
06/03/12
Northway employees are arriving today. Going to get a jump on registration by getting there early. No long lines, and plenty of people to help: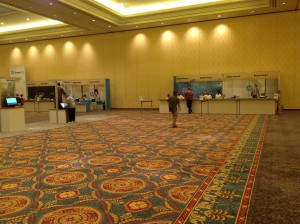 I received a personal escort to the speaker check-in. I noticed the theme of the conference this year: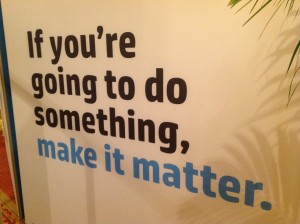 There's video cameras getting ready to shoot some video during the conference:
After a nice dinner at CarneVino (which I highly recommend), we spent some time with our friends at Jamo Solutions. You may recall our recent press release on our partnership with them and our 360-degree mobile solution offering. Loved hanging out with them. Nice guys!
Time to get prepped for tomorrow's partner summit. Looking forward to seeing lots of friends in the partner community.
06/04/2012
The partner summit is coming up in a few minutes. Can't wait to hear what HP has to say to the software partner community.
10:15 a.m. – HP is bringing together their partner ecosystem, with a worldwide commitment to alignment.
HP sees Cloud as a $143 billion dollar market for 2013.
HP Software has tremendous growth. 50% of software sold is through partners.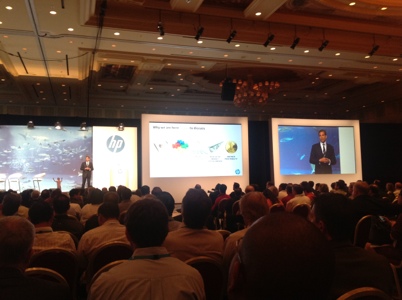 Is it lunch time already?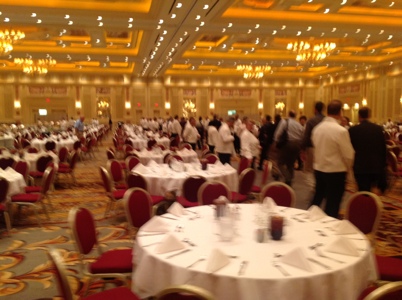 12:30 p.m. We have our first bingo winner. Suraj Sundarrajan is getting ready to enjoy some free Starbucks coffee courtesy of Northway. I am looking forward to talking to Suraj more this week about LoadRunner and performance testing stuff.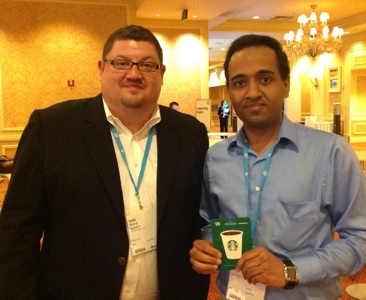 01:00 p.m. Some of us are going to rehearse for our presentation. Others are headed to the software partner breakout session. As a reminder, our session is TB2224 at 5:15 p.m. Tuesday.
02:15 p.m. I saw that super awesome rock star Matt Morgan. He is the Vice President of Product Marketing for HP Software.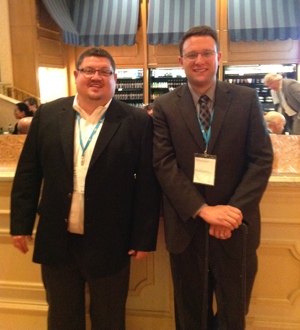 02:30 p.m. Partner general session is beginning….
Several partner awards were given out. I will update with more information soon…
Did anyone see the living trees?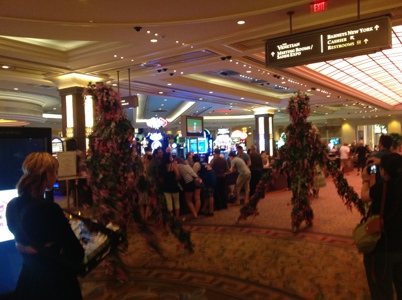 4:00 p.m. A quick meeting with our friends Laura and Heidi at StrataCom. They are an HP software partner that does ITSM and the Operations side of the portfolio. Laura is very involved with Vivit and was on "booth duty". It was great catching up.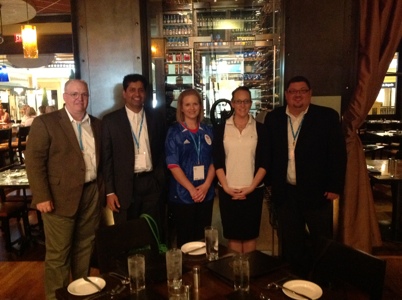 5:00 p.m. Had a chance to chat with some friends in HP professional services in the HP Discovery zone area.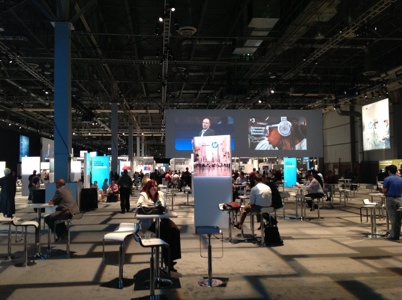 7:00 p.m. Finished off the evening at Hash House a Go Go. Highly recommended for a crazy large portion of twisted farm food.
06/05/2012
07:30 a.m. Getting ready for this busy day to begin.
08:00 a.m. New website for IT Performance Suite just went live. Information on the new 11.5 versions of ALM, Quality Center, LoadRunner, and more…
08:20 a.m. ALM for the cloud. SaaS version is geared to help DevOps.
8:40 a.m. Meg's in the house.
09:00 a.m. Jeffrey Katzenberg is speaking on the main stage.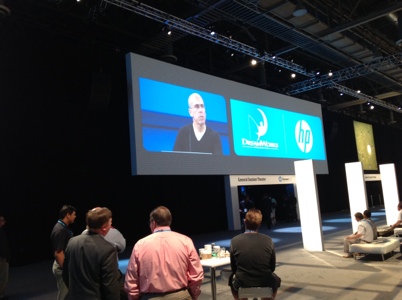 11:15 a.m. TruClient Confessions. Scott Parker with Seagate. Former Nuclear scientist converted to Performance testing. Delivers tips and tricks.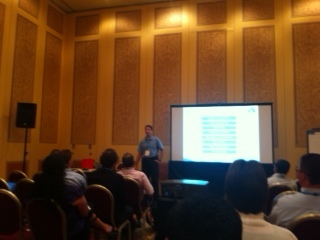 12:00 p.m. Hate to be negative…. But a bit disappointed in the lunch selection today. More like a high school cafeteria offering. I think I will hit the barista instead.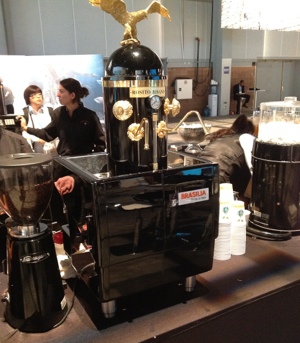 01:00 p.m. While I have some time before my next session, I decided to make the rounds and see some friends. I ran into my long time buddy Teresa Cook from Sky IT Group.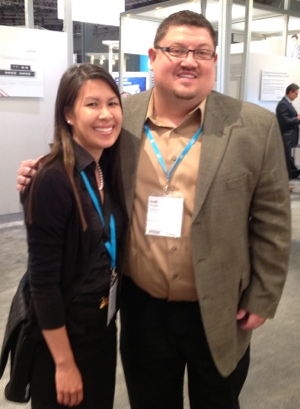 Spent some time at the Assure booth, with whom Northway is a partner and reseller.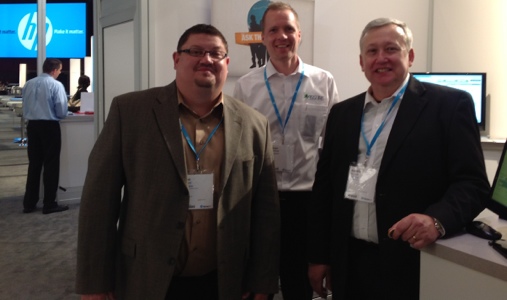 Caught up with my friend Liam McCamley at Shunra too.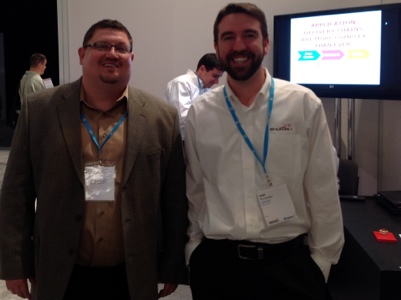 2:45 p.m. At session TB2777, "What's new in HP LoadRunner". Shane Evans is going over the be Vugen layout.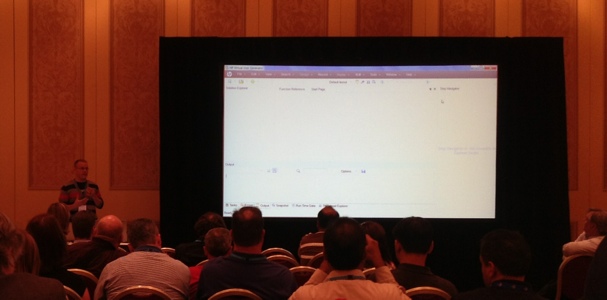 04:00 p.m. At session BB2884- Building application security into your SDLC. Tim Chase is rocking the house on application security testing.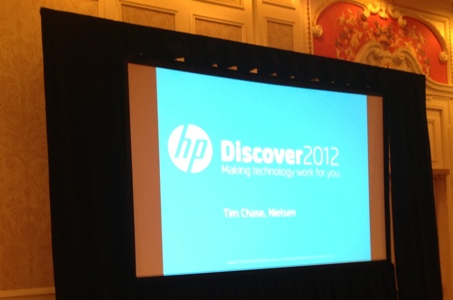 And Tim Chase is one cool cat!!!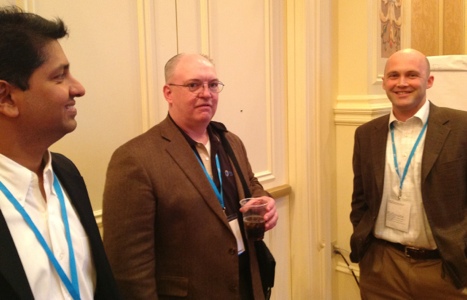 5:15 p.m. It's time for Northway to present on Application Transformation in Healthcare IT with our client BlueCross BlueSheild of Tennessee.
The presentation went well. We had a lot of questions, and the audience seemed very interested in our official announcement of the 6D methodology. If you are reading this and missed the presentation, we will have it on he web soon. You can also find one of us at HP Discover through Thursday afternoon and get a free USB drive from us which has all the information about how to access a special webinar video that goes into detail about the methodology.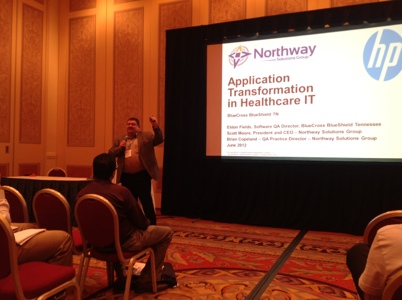 6:00 p.m. After the presentation I had the chance to hang out shortly with Ryan Foulk, who I have known for a few years but never had the chance to meet in person. This is why I love coming to HP Discover. Everyone is in the same place for a few short days and it's always good to shake hands with someone you have talked on the phone with or had several email conversations with.
Now it's off to dinner and more after conference conversation. A very good day this was!
06/06/2012
07:00 a.m. Must…..have….coffee……
Unfortunately, this is where I ran out of access to update the blog. The highlight of the last day of Discover for me was getting to meet Teresa Lanowitz of Voke. Teresa is on the cutting edge when it comes to independent research. I have been a fan of hers ever since she was the Gartner analyst covering Mercury Interactive. I highly recommend checking out her research and passing it on to customers. Her 2009 paper on Performance CoE's is like Scripture for us in the LoadRunner realm.
Overall HP Discover was all about seeing old friends and making new ones, and expanding the possibilities of what we will be capable of doing with the advancements in HP Software. Looking forward to next year.
Back to Blog